[Text|High-tech LED reporter Xu Chaopeng]
"Zhonghao Optoelectronics does only use COB light source. We hope that customers can use our COB light source products to bring energy saving to owners or consumers, as well as healthy and comfortable light." Wang Mengyuan, general manager of Foshan Zhonghao Optoelectronics Technology Co., Ltd. (hereinafter referred to as "Zhongyi Optoelectronics") told the reporter at the high-tech LED exhibition.
It is reported that Zhonghao Optoelectronics Co., Ltd., established in 2008, is mainly engaged in the research and development, production, sales and technical services of epitaxial materials and chip products for semiconductor lighting and backlights and high color rendering integrated light source modules.
"The highlight of Zhonghao Optoelectronic COB Light Source is: firstly, the company's proprietary zinc oxide patent chip is used, which is not blocked by foreign patent technology; secondly, it adopts the unique thermoelectric separation structure designed for COB characteristics, which is small in size and easy to install. Safe and reliable, and the heat dissipation effect is very prominent." Wang Mengyuan mentioned.
According to Wang Mengyuan, the new COB light engine ZH-LLE-V2 exhibited by Zhonghao Optoelectronics can completely abandon the ordinary constant current power supply, and its performance, parameters, reliability, dimming and stroboscopic ability are all It has approached and surpassed ordinary constant current power supplies and can be easily extended to new functional circuit applications.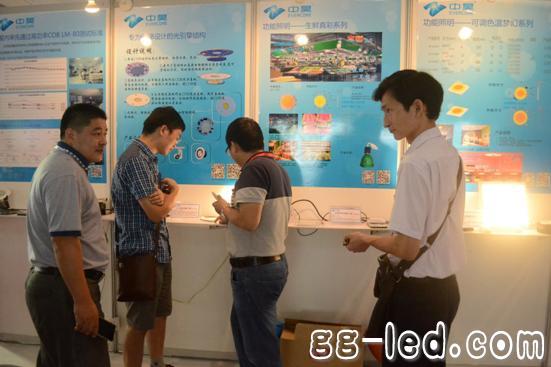 Zhonghao Optoelectronics Booth Office
At the same time, Wang Mengyuan also told reporters that Zhonghao Optoelectronics introduced a near-full-spectrum COB light source. The color rendering index of the light source breaks through the technical bottleneck of high color temperature. At 5700K color temperature, the color rendering index (Ra) ≥95, R1~R15 are all above 80, and R9 is greater than 90, which is suitable for places with precise color contrast, such as film and television lighting. , textile control lamps and other fields.
"For the human eye, natural light is the most comfortable light. Zhonghao Optoelectronics hopes to be a follower of natural light. Through its unremitting efforts, it can make a COB light source that is infinitely close to natural light." Wang Mengyuan finally said that with the home lighting market With continuous maturity, Zhonghao Optoelectronics' high-quality COB light source will also enter thousands of households, giving the home a healthy and comfortable atmosphere.

Outdoor LED Wall Pack Lights,Aluminum Wall Pack Lights,Outdoor Wall Lighting,LED Wall Pack Light For Outdoor
Vietnam JJ Lighting Company , https://www.vnjjlighting.com