The wireless Internet market is carrying an explosive growth in the east of the Internet of Things. It is reported that by 2017, the estimated annual shipment of WiFi products is expected to reach 3 billion, and the annual shipment of the Internet of Things in 2020 is expected to be 50 billion. At the same time, in order to promote the further popularization of IoT devices, the industry is actively researching and developing IoT sensor nodes with a cost as low as US$1, which means that traditional GaAs or SiGe materials are almost impossible to have any profit margin. Vendors are mulling a CMOS chip to replace the traditional solution, to reduce production costs, and to greet the tide of networking.
For the Internet of Things, wireless sensor nodes are the necessary "channels" for device interconnection. Therefore, the relevant industry pays special attention to the cost of RF chips. Although current gallium arsenide (GaAs) RF chips are still the mainstream in the market, and the proportion of shipments is as high as 90%, with the increasing cost of RF, the future low-cost, low-power, high-performance RF solution led by CMOS will become The "new darling" of the Internet of Things market.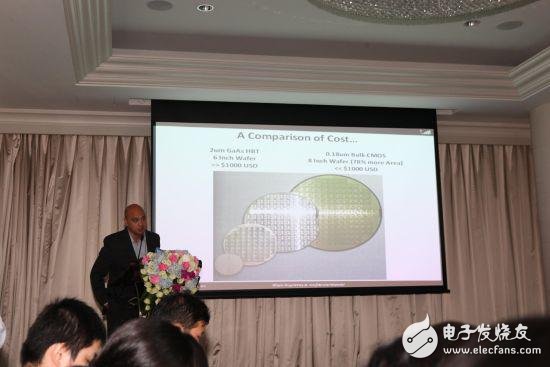 Raymond Biagan, vice president of global sales at RFaxis, said RFeIC technology supports a wide range of applications that use wireless communications as the primary platform, including broadband, mobile devices and the Internet of Things.
RFaxis' pure CMOS chips offer attractive prospects in terms of package size, performance and cost. Since its inception in 2008, RFaxis, a fabless semiconductor manufacturer dedicated to next-generation wireless interconnect and mobile network RF solutions, has consistently adopted CMOS technology to implement RF chip solutions with its innovative CMOS RFeIC architecture and integrity. The product chain, RFaxis has been widely recognized by many IoT equipment suppliers including Qualcomm.
Biagan pointed out that traditional GaAs materials are costly in terms of production and design because of the difficulty of refining. The silicon materials derived from CMOS are widely used in soil and sand, and have the possibility of mass production. Therefore, the price is high. Has an inherent advantage. Taking RFaxis's pure CMOS chip as an example, it can reduce manufacturing and testing costs by more than half under the premise that performance is comparable to GaAs products.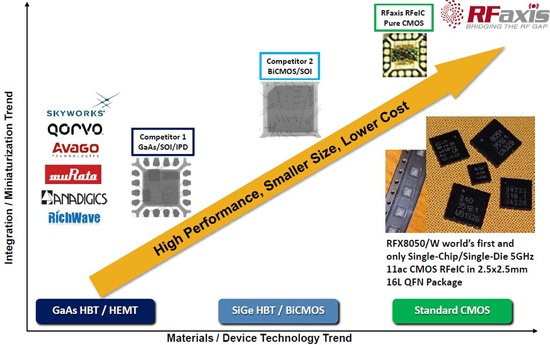 The RFaxis pure CMOS RF solution excels in smaller package sizes, lower power consumption and higher performance than competing GaAs and BiCMOS solutions.
In addition, CMOS materials also have an advantage in terms of power consumption for driving and operating RF chips. GaAs and SiGe RF chips are based on process and material characteristics, at least 2.6V to be driven to drive, and must supply 3.3 or 5V to continue operation; in contrast, CMOS only requires 1.2V driving voltage and 2.4V operating voltage Under the premise of equal system current, the power saving benefit is as high as 30-40%, which greatly improves the transmission efficiency and linearity of the RF chip.
In terms of integration, the CMOS RF chip also completed a disruptive initiative. In the past, the RF front-end module was spliced ​​by a discrete amplifier that increases the transmission distance, a low-noise amplifier that optimizes the receiving sensitivity, and an antenna switch. RFaxis' RFeIC architecture can incorporate these critical functional devices into a pure In the CMOS single chip, engineers strive for more design space to meet the small size requirements of the IoT device for RF chips.

RFaxis' RFeIC products cover the 2.4 GHz to 5 GHz band and support a wide range of wireless standards including Bluetooth, Zigbee, WLAN, 802.11n/MIMO, WiMAX, WHD and a variety of mobile communication standards.
Now, CMOS RF chips do have many advantages that GaAs and SiGe can't match. RFaxis has been on the road with its unique vision and unwavering perseverance, and has reached the forefront of the industry. "RFaxis is not satisfied with this." Biagan stressed, "We are actively promoting the coverage of CMOS RFeIC solutions in the global market. To this end, we will cooperate with the world's largest electronic component distributor, World Peace Group; On the one hand, RFaxis will also add a FAE lab in Taipei to provide more timely and efficient support for low-cost IoT application solutions for the broad design community in the Asia Pacific region."
Biagan also revealed that RFaxis will launch Nucleus, a family of RF front-end products using nanotechnology in the fourth quarter of 2014. The initial device Nucleus 45 is a 5GHz 802.11ac RF front-end integrated circuit using a 40nm CMOS process. RFaxis will also plan to introduce the next-generation Nucleus 2 family of products to provide seamless migration from 40 nm to 28 nm process nodes.

Iron Pot Rice Cooker,Electric Cooker For Travel,Mini Electric Cooker,Kitchen Cook Rice Appliance
JOYOUNG COMPANY LIMITED , https://www.globaljoyoung.com