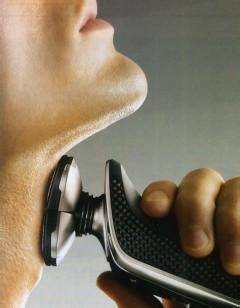 Go out every day, how do you do? To have a clean, clean and perfect image, using electric razors to shave easily is the best way! How to choose a razor? Xiao Bian now shares with you the razor buying skills.
1: What kind of razor can shave more thoroughly? There is no guarantee of a little hustle. Obviously, a razor with an independent floating cutter head and an automatic grinding blade is the most basic choice. In the blade automatic comfort veneer shaving, the independent floating cutter head can better adjust the shaving according to the facial and neck curves. Angle, shave every part of the beard.
2: Want to thoroughly shave the beard under the skin? Not impossible, this requires a double blade to complete! Upgrade a double-bladed razor to gently lift the beard and comfortably shave the beard under the skin, not just veneer! The double precision razor heads are also provided with grooves and round holes to shave the round holes that shave off normal length hair and shorter tendons, respectively.
3: Often, we are all shaving steps on the washstand after getting up in the morning, so picking a full-body waterproof razor is also very important! A fully washable razor can also make it easier to clean the urn storage tank.
4: When using an electric shaver, dry shaves are the most appropriate choice under normal circumstances. Dry shave can better clean the beard and also better maintain the shaver. However, many men who had previously used a manual razor for wet shave always felt that using a wet shave would be more smooth, so pick a razor that can be wet and dry. Apply shaving foam and enjoy smooth, low-friction smooth shaving.
5: What to watch out for when choosing a razor if you travel frequently? A lot of men who travel frequently often encounter the embarrassment that the razor is dead during business trips. There are several solutions!
First of all, you choose a razor with integrated power plug and no charging cable, so it is very convenient to charge at any time! When you are completely out of power, you need to shave. If you are using a razor with fast charging, it is perfect! Just a quick charge for a few minutes, you can shave it once and save it!
6: Of course, it takes tens of minutes for most razors to fully charge. If you find it too inconvenient, choose a razor with a very short charge time! The latest technology can be fully charged in about 1 hour, use two weeks!
7: According to your needs, choose a suitable razor it. You only need to consider such a few points!
1. Shaving effect 2. Dry shave shave 3. Charging
The Industrial Relay is an automatic switching element with isolation function. It is widely used in remote control, telemetry, communication, automatic control, mechatronics and power electronics. It is one of the most important control components.
Our company's Industrial Relay are mainly devided into these three series,with good quality and most competitive price,:
Ningbo Bond Industrial Electric Co., Ltd. , https://www.bondelectro.com